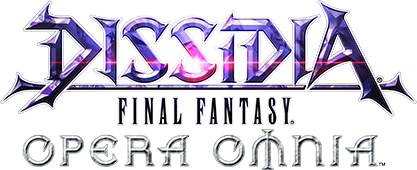 YouTube Video Placeholder
Pre-Registration is Available!
Google Play Store:
Click here
Apple Store:
Coming soon
Dissidia Final Fantasy: Opera Omnia is yet another mobile Final Fantasy game. This time, the combat fuses a classic turn based strategy system with Dissidia's Bravery system, therefore allowing you to employ Bravery attacks in order to deplete an enemy's Bravery and "Break" it, granting your team the ability to deal HP damage to the enemy.
The game has
no stamina system
for a majority of missions (Story missions, vortex missions, etc.). There
is
a stamina system for special battles in the Phantom Beast World.
The gacha system is similar to FFRK. All characters are earned in-game for free through story and events and you pull for equipment which grants your characters new abilities. The gacha seems fair out the gate with guaranteed 5* banners as well as fairly small pools from which equipment can be drawn. The game is also quite generous with free currency. The downside here is that most equipment is time-limited, meaning if you miss it while the event is happening, odds are you won't be getting it. Rates are approximately 5% for a 5*, 30% for a 4*, and 65% for a 3* with an elevated chance at rare items on 11 pulls: 20% for a 5*, 80% for a 4*, and 0% for a 3* on the 11th item drawn.
Upgrading your equipment (fusing copies together, a-la FFRK) and levelling it up to the maximum possible level will grant your character special abilities and traits. These are generally character-specific.
Summons are also in the game. They function similar to the Espers in FFBE where you get passive bonuses for equipping them in addition to a summon ability in battle.
The game releases
some time in January
and will be available to download
for free
.